SECRICOM Final Demonstration
SECRICOM has conducted its final demonstration of results achieved by the project. More than 40 emergency response stakeholders from UK and abroad watched the SECRICOM capabilities in action.
They had a chance to consider SECRICOM implications for technology in use and business procedures. The event took place on 8th March at Qinetiq premises in Portsdown Technology Park, Portsmouth, UK.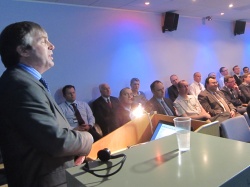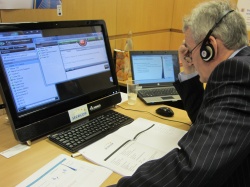 A scripted demonstration exercise was carried out by members of the project team who were acting out a particular emergency service role within the context of a crisis scenario. The pan-European demonstration (5 countries involved) used the technology within a plausible user context. The demonstration was not about testing business processes and procedures, although, the capabilities provided by the SECRICOM technology might have informed new ways of working.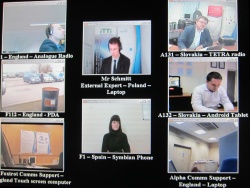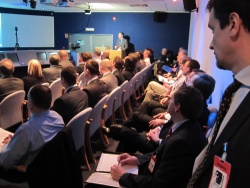 Main achievements of the demonstration were as follows:
Use of secure wireless communication system SECRICOM Silentel as the main communication system during crisis situation
Communication server with encryption functions
Client applications on various mobile devices (iOS, Android, Symbian, Windows mobile)
Operator studio with touchscreen
Gateways to Tetra Radio system and Citizen Band radios
Services including, voice, text, multimedia, long messages, group moderation, actor status, etc.
Resilient network infrastructure
Multi bearer router (MBR) for seamless connectivity
Network monitoring for safety and quality of service
Network management by use of distributed computing
Advanced functions of communication system
Search in various databases based on Secure Agent system
Trust ensured by Secure docking module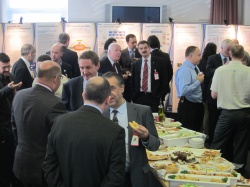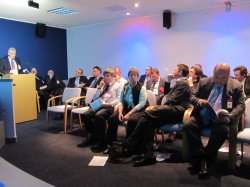 This exercise has addressed the following project objectives again drawn from user requirements:
Secure and resilient multi-way discussion, involving specialist out of theatre sources hosted across state borders
This could relate to CBRN incidents that need specialist technical or medical advice urgently to enhance the effective of response
The capability of including all concerned parties in one conversation/talk-group negates the need for communications to travel up across and down command structures thus saving time and reducing the risk of misinterpretation of important information
Secure instant written data exchange with audit trail to support decision making and post incident reviews
Instant messaging, or traceable secured messages
Secure Agent – instant access to live information about bed availability (could be other key asset information such as body bags, etc) reduces need and resource for regular telephone calls seeking required information thus improving times to get patients to right hospitals