The project work is divided into nine RTD work-packages supported by two work-packages for management and dissemination. Top innovations deal with:
Creation of secure wireless fault tolerant communication system for mobile devices based on push-to-talk system (WP 3);
Secure distributed system (WP 4);
Secure docking module – system on chip design (WP 5).
These innovations will be extended by:
IPV6 based secure communication (WP 6);
Internetwork interfaces, interoperable, recoverable and extendable network (WP 8);
Communication infrastructure monitoring and control centre equipped with localization of actors (WP 9);
Working infrastructure – the objective of SECRICOM project will be ensured by:
Integration of research results (WP 7);
Demonstrator creation and presentation (WP 10).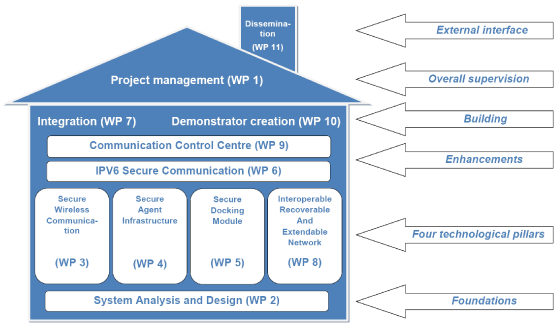 News
SECRICOM Final Demonstration
SECRICOM has conducted its final demonstration of results achieved by the project. More than 40 emergency response stakeholders from UK and abroad watched the SECRICOM capabilities in action.
Read more...
Videos from SECRICOM on Civile Protection Event
Follow the SECRICOM project on Facebook FanPage and learn more about its past and future events, achievements and news!