Solve problems of contemporary crisis communication infrastructures:
Seamless and secure interoperability of existing many hundred thousand mobile devices already deployed
Smooth, simple, converging interface from systems currently deployed to systems of new SDR generation
Creation of pervasive and trusted communication infrastructure, bring interconnectivity between different networks
Provide true collaboration and inter-working of emergency responders
Seamlessly support different user traffic over different communication bearers
Add new smart functions using distributed IT systems based on an SDR secure agents' infrastructure:
Easier instant information gathering and processing focusing on emergency responders main task – saving lives.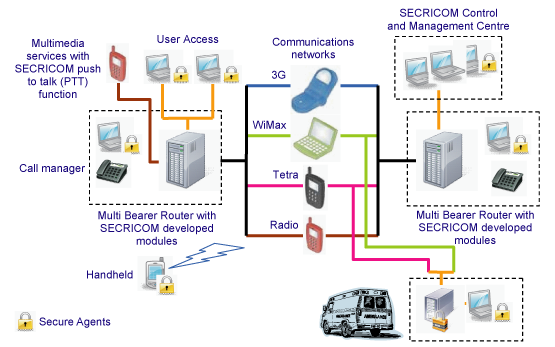 News
SECRICOM Final Demonstration
SECRICOM has conducted its final demonstration of results achieved by the project. More than 40 emergency response stakeholders from UK and abroad watched the SECRICOM capabilities in action.
Read more...
Videos from SECRICOM on Civile Protection Event
Follow the SECRICOM project on Facebook FanPage and learn more about its past and future events, achievements and news!