The SECRICOM project has been selected for funding in the Seventh Framework Programme for research and technological development (FP7). FP7 is the European Union's main instrument for funding research over the period 2007 to 2013. It supports the research-related EU initiatives to boost the European growth, competitiveness and employment.
The SECRICOM as a collaborative and integration project has addressed the Security Theme in Call FP7-SEC-2007-1 in Topic SEC-2007-4.2-04 Wireless communication for EU crisis management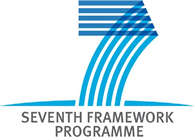 Total cost: € 12.468.847
EU contribution: € 8.606.791
Start date: 01/09/2008
End date: 30/04/2012
Duration: 44 months
News
SECRICOM Final Demonstration
SECRICOM has conducted its final demonstration of results achieved by the project. More than 40 emergency response stakeholders from UK and abroad watched the SECRICOM capabilities in action.
Read more...
Videos from SECRICOM on Civile Protection Event
Follow the SECRICOM project on Facebook FanPage and learn more about its past and future events, achievements and news!